Catholic poet conveys sacramental view of world
BY C.S. MORRISSEY
It is spellbinding when theatre and television actor Richard Austin performs live, from memory, the poetry of Gerard Manley Hopkins, writes C.S. Morrissey.
"Nothing is so beautiful as Spring," exclaims 19th-century poet Father Gerard Manley Hopkins, SJ, at the beginning of his gorgeous and astonishing poem Spring.
Theatre and television actor Richard Austin has dedicated great efforts to reciting the poetry of Hopkins in public performance.
Although he has made an excellent recording ("Back to Beauty's Giver") of his readings of a number of Hopkins' verses, Austin also keeps alive the pre-modern experience of memorizing vast amounts of Hopkins' poetry for public recitation.
A few years ago, I experienced one of Austin's performances. The effect is spellbinding. When Hopkins' poetry comes to life, the thrill in the room is palpable.
In our digital age of Internet distraction, not many people memorize great poetry anymore. But there is an unmistakable difference between watching a YouTube video, and being in the same room with a human being whose voice and body incarnates poetic magic.
Just as Hopkins had converted to Catholicism, Canadian media theorist Marshall McLuhan also converted to Catholicism as a young man. Both men were in their twenties when they did so.
Before he became famous in the 1960s and 1970s for his analysis of how media and advertising are turning our planet into a "global theatre," McLuhan was an English professor who wrote about topics like the magnificent poetry of Hopkins.
In an essay called The Analogical Mirrors, published in The Kenyon Review in 1944, McLuhan observes, "The Catholic reader has the advantage only in that he is disposed to give Hopkins a chance." Otherwise, because of his use of analogy, Hopkins can make accessible, to a reader of any background, "a sacramental view of the world."
By this McLuhan means "what of God is there" in Hopkins' poetry is something that Hopkins "does not perceive nor experience but takes on faith." In other words, Hopkins is not the sort of poet who is "a nature mystic at all, nor a religious mystic" reporting back to the reader a secret experience.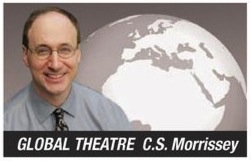 Instead, McLuhan argues, Hopkins is "an analogist." That is, he simply uses language and analogies in order to convey the sacramental mode of vision by which faith looks at the world. It is "by intensity and precision of perception" and "by analogical analysis and meditation" that Hopkins "achieves all his effects," writes McLuhan.
"It may sound at first strange to hear that Hopkins is not a mystic but an analogist," he concedes. Yet Hopkins "does not lay claim to a perception of natural facts hidden from ordinary men," as a nature mystic would. This accessible stance toward nature "is evident in every line of description he ever wrote," contends McLuhan.
Moreover, the religious experience of Hopkins, conveyed by his poetry, is not the inaccessible experience of a religious mystic. "Nowhere in his work does he draw on an experience which is beyond the range of any thoughtful and sensitive Catholic who meditates on his Faith," observes McLuhan.
Thus, anyone who hears the poetry of Hopkins does not need a hidden mystical experience, natural or religious, in order to relate to it. Instead, Hopkins' innovative wordplay simply "records a vigorous sensuous life in the order of nature," says McLuhan, which we are all capable of experiencing, for example in the experience of springtime.
Hopkins' poetry "deals sensitively with the commonplaces of Catholic dogma," but it is a mistake to call such poetry "mystical," argues McLuhan. For any believer, who sees with the eyes of faith, a sacramental vision of the world is readily accessible.
With his vision, Hopkins possesses an incredible intensity of perception. Yet McLuhan remarks how Hopkins uses "a relatively small number of themes and images" to exhibit "an infinitely varied orchestration" of them.
A public performance of Hopkins' poetry is thus never disjointed. Instead, it uniquely conveys the holistic experience of a sacramental vision. "Familiarity with Hopkins soon reveals that each of his poems includes all the rest, such is the close-knit character of his sensibility," writes McLuhan.
To write about a Hopkins poem involves "an inevitable dispersal of attention," says McLuhan. "But then only an oral reading with all the freedom and flexibility of spoken discussion can really point to the delicate interaction, at each moment of the poem, of all its cumulative vitality of logic, fancy, musical gesture."