JOHN DEELY (1942-2017): Philosopher gained insights from medieval thinking
BY C.S. MORRISSEY
John Deely, who passed away Jan. 7, demonstrated how we need to recover key insights from medieval philosophy in order to cure the ills of modern thought, writes C.S. Morrissey.
Four Ages of Understanding, by the intrepid Catholic philosopher John Deely, recovers the history of philosophy in an astonishing way. It demonstrates how we need to recover key insights from medieval philosophy, in order to cure the ills of modern thought.
Even though our friend John passed away on Jan. 7, it is one of many truly great books that will live on.
John was born in Chicago on April 26, 1942. He studied at the Pontifical Faculty of Philosophy of the Aquinas Institute of Theology in River Forest, Illinois. The amazing Dominicans there, like Benedict Ashley, OP, were among the teachers who formed him for a lifetime. He received his PhD in 1967.
He soon moved on from various academic posts to his first major career accomplishment: to work closely with the renowned philosopher Mortimer Adler, at the Institute for Philosophical Research, from 1969 to 1974.
A fruitful philosophical disagreement between Deely and Adler resulted in John going his own way. He needed to continue unhampered his investigations into the history of semiotics in the Middle Ages: i.e., how philosophy and theology tried to explain the functioning of biblical and sacramental "signs."
"I am indebted to him and regret that unresolved differences of opinion between us about certain aspects of a theory that we otherwise share prevent him from associating his name with mine in the authorship of this book," wrote Adler in the preface to Some Questions about Language: A Theory of Human Discourse and Its Objects (1976), which they had originally begun writing together.
Adler was a noted advocate of the "Great Books" and "Great Ideas" approach to education. But John continued his intense and innovative work on the problem of "signs" in philosophy as he went on from Adler's Institute to work as full Professor at Loras College in Dubuque, Iowa (1976–1999).
In 1999, John switched his institutional home base to the Center for Thomistic Studies, at the University of St. Thomas in Houston, Texas. At that time, our Archbishop Miller was there, serving as the university's president. At the center, Deely held the Rudman Chair of Graduate Philosophy from 2007 to 2015.
From 2015 to the time of his death, John was Philosopher in Residence at St. Vincent Archabbey College and Seminary in Latrobe, Pa. An unexpected battle with cancer cut short his plans to revamp their philosophy department.
John was an original thinker who made great contributions, writing more than 30 important books and more than 200 specialized academic articles. He was able to innovate because he had acquired a solid grounding within the Catholic intellectual tradition.
The great French Catholic Thomist Jacques Maritain was an influence on both his professional and personal life. At a meeting of the American Maritain Association, he met his wife Brooke Williams Deely. Many know her as the scholar behind the book Pope John Paul II Speaks on Women (2014), but back in 1986 she worked with John on Frontiers in Semiotics.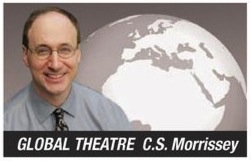 Professor Michael Torre of the University of San Francisco, a past president of the American Maritain Association, recalls that "John and Brooke remained loyal to the American Maritain Association," as John was "a founding member and perhaps even the chief architect of its first Constitution."
"He attended its meetings for some 40 years. He was deeply admired by many of its members: not merely for his mental acuity and creativity, but also for his deep thoughtfulness and intellectual humility," remembers Torre.
"He managed to be nova et vetera in the very best sense of that phrase. Beyond his virtues, he simply will be missed by many as their good friend, one who it ever was a joy to be with. His strong presence, his wit, and his laughter will be sorely missed at the gatherings of those colleagues who were devoted, as he faithfully was, to Jacques Maritain."
John's most important philosophical contributions included his promotion of the works of John Poinsot who, as one of the very greatest commentators on St. Thomas Aquinas, is also known as John of St. Thomas.
The community of Benedictine monks at the Abbey of Solesmes is the publisher of the critical edition of Poinsot's writings. Jacques Maritain was a Benedictine Oblate for whom Poinsot was the most beloved Thomistic guide.
Deely meticulously prepared a bilingual edition of John Poinsot's Tractatus de Signis ("Treatise on Signs"), which upon publication received the featured book review in The New York Times (Easter, 1986). To keep this important work in print, St. Augustine's Press recently printed a second edition.
John Hittinger, current holder of the Rudman Chair at the Center for Thomistic Studies, notes John's work will live on: "John Deely crafted a fresh approach to the thought of Thomas Aquinas through a development of the notion of sign and he developed an authentic 'post modern' philosophy surmounting the empiricist/rationalist and realist/idealist dichotomies of the modern age."
"Deepening the semiotic work of Jean Poinsot and Charles S. Peirce," explains Hittinger, "Deely showed philosophers a way forward beyond the interminable debates about subjectivity and objectivity, nature and culture, inner and outer dimensions. His legacy will continue to enrich Thomistic philosophy and to prove beneficial across many traditions, cultures and historical perspectives."