Philosopher notes objective beauty needs defence
BY C.S. MORRISSEY
The plight of refugees can be an occasion for contemplating the objectivity of beauty, writes C.S. Morrissey. (Photo credit: HumanitasCentre.org)
Is the cliché true? Is beauty always "in the eye of the beholder"? Is it only a subjective experience?
One of the greatest works of the great Catholic philosopher Dietrich von Hildebrand (1889-1977) was his book Aesthetics. The first volume of this magnum opus has finally been translated into English. We can thank the Hildebrand Press, an initiative of the Hildebrand Legacy Project, for publishing it this year.
Hildebrand starts off his Aesthetics: Volume I, a treatment extending to well over 400 pages in length, by devoting the entire first chapter to discussing "The Objectivity of Beauty." When we describe an object as "beautiful," he argues, we are communicating two things.
First, we are naming a quality that belongs to the object: for example, a quality of the world of nature, or of a certain piece of music, or of a human face.
But we do not take a neutral stance about this object's quality. Rather, we single out the quality of beauty for our attention, because we recognize the undeniably positive nature of this quality.
Thus, the second thing communicated by our naming of the object as "beautiful" is that it has a sort of value. But this is where the interesting philosophical problem concerning beauty arises. Are values really only subjective? Should we not defend the objective nature of certain types of values?
Dietrich was born in Florence, Italy, the son of the German sculptor Adolf von Hildebrand. In this environment, he had the benefit of being surrounded by impressive examples of beauty throughout his upbringing.
While he did engage with the traditional philosophical problems concerning truth, freedom, love, conscience, and community, he had the merit of bringing a fresh approach to them all. His angle of approach was usually from an unconventional perspective that shed new light.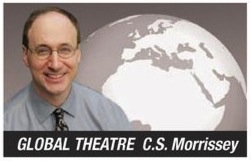 Hildebrand converted to Catholicism in 1914. He was such an outspoken opponent of the rise of Hitler and Nazism that he had to flee for his life from Germany in 1933. Eventually he came to America and taught philosophy in New York City, where he continued his practice of not conforming to the prevailing ways of thinking about things.
The story of how Hildebrand became the number one public enemy of Hitler is told in My Battle Against Hitler: Faith, Truth, and Defiance in the Shadow of the Third Reich, which was published by Random House in 2014, but it has also just come out in a paperback edition. The 2016 edition sports a new foreword by the renowned contemporary philosopher Sir Roger Scruton.
I thought about Hildebrand's life as I watched disPLACE: Refugee Stories in Their Own Words, which Angela Konrad created and directed, together with her assistant director Jessica Garden. A moving stage production about the perennial plight of refugees, the play just finished a successful run (Nov 22-Dec 3) at Freedom Hall at Trinity Western University.
It was the inaugural production of Dark Glass Theatre, which is sponsored by the Humanitas Anabaptist-Mennonite Centre at TWU, as a way to create compelling ways for human beings to discover empathy for one another. Konrad told me four of the five actors in the production were Catholics.
Hildebrand's movement across continents was necessitated by his stance concerning the objectivity of certain types of values. Further, the spoken word testimonies enacted verbatim in the stage play disPLACE also bore witness to the objectivity of certain types of values.
When Hildebrand writes in his Aesthetics about the objectivity of beauty, he asks us to consider the difference between two types of experience. Consider the difference, he says, between what we experience when someone "pays us a compliment" with words of flattery, and when we witness someone perform "a generous action" such as a "forgiveness of a grave injury."
While the words of flattery may be a pleasing subjective experience, they are quite fleeting. But when we witness an act of forgiveness, the objectivity of its value "shines forth with the mark of importance, with the mark of something noble and precious. It moves us and engenders our admiration," writes Hildebrand.
"We are not only aware that this act occurs, but that it is better that it occurs, better that the man acted in this way rather than another. We are conscious that this act is something that ought to be, something important."
With a beautiful work of art, we find ourselves in the presence of such an objective communication of value. It is objectively better that there should be such beauty in our world of suffering humanity.
Dr. C.S. Morrissey cultivates classical tradition by teaching the Greek and Latin classics. Learn more at moreC.com.