Gil Bailie offers his masterwork in God's Gamble
BY C.S. MORRISSEY
Gil Bailie shares the fruits of a lifetime of patient reflection upon the innovative anthropological hypotheses of Rene Girard and the fearless theological explorations of Hans Urs von Balthasar, writes C.S. Morrissey.
With God's Gamble: The Gravitational Power of Crucified Love, Gil Bailie has written his masterwork. Published by Angelico Press this year, the book is a quantum leap forward from Bailie's earlier tome, Violence Unveiled (1996), which many readers consider the best introduction to the Catholic thinker René Girard and his work on religious violence.
In God's Gamble, Bailie shares the fruits of a lifetime of patient reflection upon the innovative anthropological hypotheses of Girard and also the fearless theological explorations of Hans Urs von Balthasar. The result is a breathtaking synthesis that meditates on all the most puzzling questions of human history:
What can we come to understand about the origin of the human race based on the achievements of evolutionary science? What can the riches of the Catholic intellectual tradition offer us in order to bring wisdom to bear upon what we can now glimpse through modern science? How might we ourselves be nourished by the profound speculations offered to us by the most gifted Catholic theological minds?
In a spirit of humility, Bailie investigates what we can know about both the origin and the destiny of humankind, thanks to the revelation of the Trinity in history. It is a wondrous history that becomes all the more fascinating as we continue to learn more about it through evolutionary science, cultural anthropology, and theological contemplation.
Bailie points out "the first human on earth did not have human parents." In other words, "the transition from the non-human to the human was a punctual event." He cites Balthasar's suggestion in A Theology of History that "subhuman nature is related to man, and the history of nature to the history of man, in a manner analogous to the relation of the Old Testament to Christ. In each case there is a slow approach and then, at the end, a leap."
What can we know about this leap to the human? Bailie notes "evidence does exist, and René Girard made it his lifework to amass and synthesize it, indicating that the first human cultures emerged when the first humans almost literally stumbled upon the process whereby recurring eruptions of collective violence could be brought to harmonious conclusion by transferring the hostilities onto a single victim."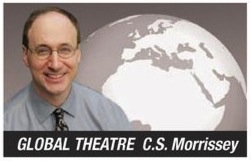 Bailie devotes many chapters to showing how Biblical theology can further illuminate Girard's "theory of culture formation". Archaic religion's use of scapegoating "provides us with an exceedingly reliable marker for the origin of human culture, namely the existence of ritual sacrifices."
Yet Christ's Passion exposes this violent sacrificial pattern of sinful human culture. As Bailie explains, "Christ not only suffers the sins of all humanity but he identifies with those sins. He owns them. Though he remains morally sinless, he adopts as his own the sins of the world, not only in order to undergo the suffering to which these sins inevitably lead, but in order to confess these sins with all the penitential remorse of a contrite sinner."
Inspired by Balthasar's theology of Holy Saturday, Bailie writes: "Owning these sins as his own and confessing them as though they were his own, he not only undergoes the godforsakenness (wrath) to which unforgiven sin finally leads, but he accepts the Father's forthcoming absolution on behalf of all sinners, thereafter holding this absolution in safekeeping and offering it to each sinner at the moment of his death, conditioned only on a willingness to face the truth with a humble and contrite heart."
Bailie also brings Balthasar's book Dare We Hope 'That All Men Be Saved'? into the discussion. "As to whether human freedom is capable of sustaining a sufficiently rebellious spirit to thwart the redemptive will of God in Christ, we must remain agnostic. It would be prudent to assume that we can finally cut ourselves off from God and to take precautions in one's own life against so dreaded an eventuality," advises Bailie.
"Balthasar, however, suggests that we must not overestimate the power of human free will, which is unavoidably benighted by its fallen condition even before actual sins further cripple it," he adds.
As Balthasar wrote, "However hard it may try, in fact, the creature can never betray and profane its mystery as completely as it might intend by its sin. The mystery, in other words, is never given into the creature's possession in such a way that it ceases to remain, at the same time, in God's safekeeping. This is the seal that the Creator has imprinted upon his creature" (Theo-Logic, Vol. I).
God's Gamble highlights neglected resources within the Catholic intellectual tradition. Good thing they've been kept in safekeeping.
Dr. C.S. Morrissey cultivates classical tradition by teaching the Greek and Latin classics. Learn more at moreC.com.