Culture is Our Business offers resource on pop culture
BY C.S. MORRISSEY
Marshall McLuhan (1911-1980) was a pioneer Canadian theorist and educator in the fields of communication and media studies. He taught at the University of Toronto from 1946 to 1979 and became popular for his aphorism, 'the medium is the message,' which summarized his view of the media's potent influence on shaping culture and styles of thinking. His major writings include The Gutenberg Galaxy (1962), Understanding Media (1964), and The Medium Is the Massage (1967). (Source: WipfandStock.com)
Marshall McLuhan said, "Advertising is the greatest art form of the twentieth century." It was his provocative way of trying to redirect our attention towards what has the greatest hidden influence on our minds.
We think we know how advertising works. We pride ourselves on our cynical self-awareness about the variety of strategies businesses use to sell us things. But are we truly aware of how much of today's culture is shaped by the worldview of advertising?
Just as there would have been no television programs and no movies without the specific kinds of advertising that kept them running, so too today there would be no Google or Facebook or YouTube or Twitter without their own respective attempts to "monetize" your attentive use of their technologies.
But advertising shapes our minds in ways about which we are still mostly unaware. For this reason, McLuhan liked to focus his scholarly efforts on the analysis of commercials. McLuhan pioneered a distinctive method of philosophical, literary, and social commentary on the unusual ways ads influence culture.
Beginning with his very first book, The Mechanical Bride, which collected various ad analyses McLuhan would make with his university students, McLuhan sought to raise our consciousness about just how far advertising extends its tentacles into our social habits.
One of his greatest books of ad analysis, Culture is Our Business, from 1970, has long been out of print. But thanks to the publisher Wipf & Stock, it is now available again. Although a bit pricey, their new paperback edition is magnificent.
The revived volume even sports a new foreword from McLuhan's collaborator and son, Eric, who tells an astounding story about the first edition of the book and his father's efforts with him to try to correct its typographical errors.
Contemporary readers who page through Culture is Our Business will be captivated by the then-current (but now "retro") advertisements displayed on all the right-hand odd-numbered pages. It's a bit like leafing through a time capsule. Waves of nostalgia may be triggered for readers of a certain age.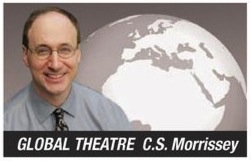 On each left-hand even-numbered page, McLuhan offers thoughts related to the striking advertisement on the facing page. Deliberately, he does not offer comments in a linear, essay fashion. Instead, he offers a barrage of aphoristic meditations visually framed by considerable white space.
In other words, his analyses themselves mimic the form of print advertisements. Reading McLuhan is somewhat like reading social commentary by an ad man gone rogue.
Intentionally, McLuhan's style cleverly subverts the idiom of advertising. He appeals to our ad-savvy minds, but only in order to twist them around, to get them to re-think how we see ads.
The title of the book is itself like McLuhan's style of writing. Just like advertisements that like to use wordplay, McLuhan's title involves wordplay. "Our business" could mean either "our way of making money" or "something we should deeply care about."
"Culture is our business" is thus the slogan we must realize all successful advertisers are living by. Advertising specializes in creating favorable cultural associations, because ads work best when they are not simply trying to sell a product. Ads succeed best when they model a lifestyle.
Advertisers are endorsing a set of cultural practices. If you desire to live in that culture, then you might buy the product. But even if you don't, the advertiser still wins simply by massaging you numb with ad culture.
As McLuhan makes clear, modern ads pursue cultural influence as a deliberately conscious business, but driven by profit motives. Hence we must attend to the second meaning of the phrase "our business." "Culture is our business" is not simply the hidden credo of successful advertisers.
Culture is also "our business" because we need to make it our own deliberate concern. What shape do we want our own lives to take? We need to become more thoughtful, on a deeper level, about how advertisements aim to shape us: every single thought we entertain, every single action we take in our lives.
For this reason, McLuhan's Culture is Our Business is more than a fascinating nostalgic tour of print advertisements from the 1960s. It is a thinking person's resource for meditating on popular culture today.
Now more than ever, that's serious business.
Dr. C.S. Morrissey is a Fellow of the Adler-Aquinas Institute and teaches for the Ignatius-Angelicum Liberal Studies Program. Learn more at moreC.com.