Islam presents a challenge for the Christian West
BY C.S. MORRISSEY
The Catholic scholar Pierre Manent argues Christians need to promote the political form of the nation as the best way to achieve peace, writes C.S. Morrissey. (Image: STAugustine.NET)
After the terrorist attack in Orlando on June 12, the worst mass shooting in U.S. history, killing 49 people, it is worth consulting the best Catholic thinkers about the challenge presented by Islam to the West.
Until he retired in 2014, Pierre Manent was director of studies at L'École des Hautes Études en Sciences Sociales in Paris. For publication in English, Ralph C. Hancock recently translated for St. Augustine's Press two insightful books written by Manent.
The first one came out in 2015: Pierre Manent, Seeing Things Politically: Interviews with Benedicte Delorme-Montini. It permits the general reader to get to know Manent's thought via an extended interview with him.
The second book is about to appear in 2016: Beyond Radical Secularism: How France and the Christian West Should Respond to the Islamic Challenge. "Manent's book is a brief 115 pages," observes Father James Schall, SJ, in a review for Homiletic & Pastoral Review praising it, and the book "is almost completely counter-cultural, a fact that gives it unexpected authority."
"It laments the decline of the separate European nations and their sub-divisions. It has little good to say of the European Union, even less for its abstract philosophical presuppositions and bureaucratic overreaches," notes Father Schall.
Father Schall is a professor emeritus of political science at Georgetown University. Like Manent, he too is now retired. In residence at Sacred Heart Jesuit Center, Los Gatos, Calif., Father Schall is widely recognized for his writings in political philosophy, such as Political Philosophy & Revelation: A Catholic Reading (Catholic University of America Press, 2013).
"Manent realizes that the usual Catholic understanding of Islam has been mostly ill-informed, if not wholly naïve and ignorant of facts," notes Schall.
Schall writes in appreciation of the hardheaded political realism about the Abrahamic religions in Manent's new book, because Manent "recognizes that a state of war de facto exists with the Muslim world" and also "takes the covenant that the Jews made with Yahweh seriously."
"It has been quite clear, at least since Urban II, that Christians had to defend themselves if they did not want to become Muslim. Those who failed to do this, the whole near eastern world after conquest, became mostly Muslim," observes Father Schall.
"What we see today in the Mid-East is mostly an effort to rid the Muslim area of any remaining people or signs, including monuments and institutions, of any Christian presence. Christians who suffer the recent persecutions have found almost no effort to defend them precisely as persecuted Christians."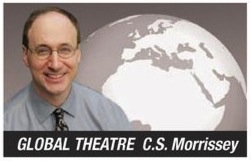 In his recent interview with the French newspaper La Croix, Pope Francis remarked that although the manufacture of arms "can be justified for defensive purposes," nevertheless "a world economic system that has descended into the idolatry of money" is unacceptable.
Therefore the Pope recommends economic investments "providing employment" as a better long-term solution to the political spread of radical Islam, rather than the short-term economic thinking of a free market that does not accomplish very much other than profiting off of providing weapons to fight wars in the Mid-East.
Regarding the current state of the Christian West, Schall finds he and Manent (not to mention the Pope) share a common viewpoint that "casts a cold eye on the moral decadence that has seen Europe almost breed itself out of existence."
But political solutions to this cultural malaise are best cultivated on a national level, advises Manent. Moreover, in Beyond Radical Secularism, he argues that Christians need to promote the political form of the nation as the best way to achieve peace: "It is up to Christians to renew the meaning and the credibility of the political community ennobled by the Covenant. We will not do this by inviting Islam to join a vague fraternity of the children of Abraham. We will renew the meaning and credibility of the Covenant only by renewing the meaning and credibility of the distinctively European association that bore the Covenant until only recently—that is, the nation."
"Now that the Jewish people have taken the form of a nation in Israel, the nations of Christian Europe cannot break with the national form without fatally wounding the legitimacy of Israel," writes Manent.
"So long as the walls of the Arab-Muslim world are crumbling and Muslims seem to have more and more difficulty producing a political form from their own resources," he argues, "to admit them into, or rather to abandon them in, a Europe without either political form or gathered collective action for the sake of the common good would be to take away their best chance for a civic life."
"It does not suffice to bring men together to declare or even to guarantee their rights. They need a form of common life," observes Manent. "In France, a nation of the Christian mark is the only form that can bring us all together."
Precisely in this way, nations may promote peace. In his La Croix interview, when Pope Francis gave positive examples of Christians and Muslims able to co-exist peacefully, they each illustrated how such an achievement is an organic, local, national development.
Such peace cannot be imposed from above by a universal bureaucracy or summoned into existence by religious platitudes. Manent's scholarly work makes a convincing case why, to win real peace, it takes a nation.
Dr. C.S. Morrissey is a Fellow of the Adler-Aquinas Institute and part of its Metropolitan Philosophy Roundtable at The King's College in Manhattan dedicated to "Educating Present and Future Leaders to Promote Global Peace."