C.S. Lewis explains the comedy of serious thinkers
BY C.S. MORRISSEY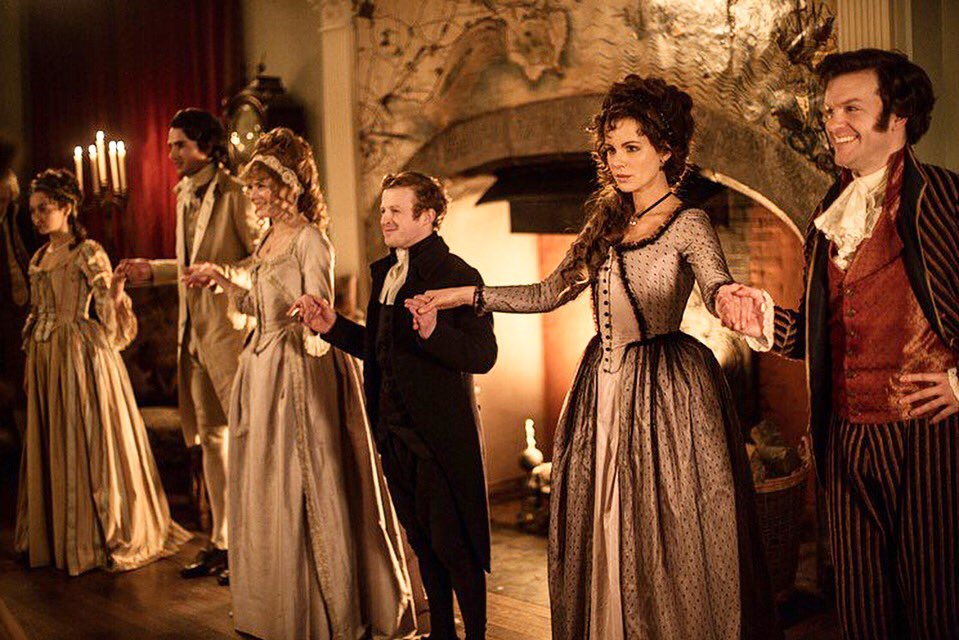 Love and Friendship, Whit Stillman's cinematic adaptation of Jane Austen, asks us to consider whether modest pleasures, like formal dancing, are the sorts of things that, if combined with affection and good manners, will constitute happiness, writes C.S. Morrissey. (Photo: @KateBeckinsale on Twitter)
Because I really love learning about words (I have studied and taught Greek and Latin now for decades), I was thrilled recently to read the following sentence written by C.S. Lewis:
"In times which men now in their fifties can remember, the adjective serious ('Serious reading', 'Does he ever think about serious matters?') had indisputably religious overtones."
Suddenly, a few occasions in my own experience where I had heard this word intended this way were illuminated. I can even remember being called "serious" on one occasion in particular; now I recognize that the word contained more meaning than I had then realized.
Updating Lewis' calculation, it would now require the memories of people over one hundred years old to be capable of habitually recognizing this meaning. Lewis wrote his remark in an essay, "A Note on Jane Austen," published in a journal in 1954 (Essays in Criticism).
I do not think we should let this meaning of the word die.
Lewis uses it when discussing the serious core of Jane Austen's literary meditations upon morality. Austen's novels are ironic comedies, and there is a great joy to be found in savoring their refined sense of humor.
Whit Stillman's new film, Love & Friendship, which adapts Austen's Lady Susan, is entirely true to this spirit of Austen, as it is absolutely hilarious, full of comic moments both subtle and overt. It is also serious.
Lewis offers a convincing argument about how Austen's thought is serious at its core. Regarding the many comic elements to be enjoyed in her writing, Lewis argues: "The hard core of morality and even of religion seems to me to be just what makes good comedy possible."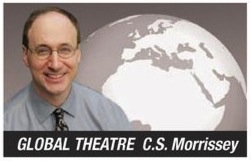 At one point, Lewis quotes Samuel Johnson: "Nothing is too little for so little a creature as man." This seems to mean there are serious implications to even the smallest details in life. It can also mean serious people must avoid taking all things too seriously.
Lewis has this paradox in mind when he writes about Austen's literary focus on the role of moral principles and standards in social life: "This is the hard core of her mind, the Johnsonian element, the iron in the tonic."
With a lovely phrase, he describes Austen's exploration of moral principles as a preoccupation with "the grammar of conduct." While "grammar is something that anyone can learn," nevertheless "it is also something that everyone must learn."
Grammar is something to which we must adhere, if only in order to be understood by others. Otherwise, as Lewis puts it: "Compulsion waits." Others expect us to conform to customary behavior, more or less.
But Lewis observes Austen's standards of moral "grammar" are not so exacting that in her stories she will demand "human sacrifice," in the way tragic stories demand tragic sacrifices from tragic characters.
She is serious, but not tragically so. Lewis identifies this as characterizing the core of her thought. Although they are ironic comedies, her novels are "not a tragic world"; and yet they are serious. He observes what makes this brand of comedy possible:
"Where there is no norm, nothing can be ridiculous, except for a brief moment of unbalanced provincialism in which we may laugh at the merely unfamiliar. Unless there is something about which the author is never ironical, there can be no true irony in the work. 'Total irony'—irony about everything—frustrates itself and becomes insipid."
Although it is not tragic, the core of her thought is still exacting, but marked by that paradox of seriousness I mentioned earlier. Of this attention to moral standards, Lewis writes:
"It is in one way exacting, in another not. It is unexacting in so far as the duties commanded are not quixotic or heroic, and obedience to them will not be very difficult to properly brought up people in ordinary circumstances. It is exacting in so far as such obedience is rightly demanded; neither excuses nor experiments are allowed."
Because of her embrace of this paradox, we also find another key element in the thought of Austen; namely, "its cheerful moderation." In Austen, Lewis writes, we will find "no grandiose schemes of joy" prescribed for her characters.
As Lewis rightly concludes: "She has, or at least all her favourite characters have, a hearty relish for what would now be regarded as very modest pleasures."
Modest pleasures, like formal dancing, or "a dinner party, books, conversation, a drive to see a great house ten miles away," are all the sorts of things that, if combined "with affection (that is essential) and good manners," will constitute happiness.
In sum, Austen "is no Utopian." She is a serious thinker, because, by being serious about serious things in just the right way, she knows how to find the joy in life.
Dr. C.S. Morrissey is a Fellow of the Adler-Aquinas Institute and part of its Metropolitan Philosophy Roundtable at The King's College in Manhattan dedicated to "Educating Present and Future Leaders to Promote Global Peace."