Benedict on the evolution of dogma answers debate on evolution
BY C.S. MORRISSEY
By speaking of the risen Christ, in a recent interview Benedict XVI offers a rational answer to the question posed by the atheist physicist Lawrence Krauss at the March 19 debate in Toronto on God, science, and the universe, writes C.S. Morrissey.
"There is no doubt that on this point we are faced with a profound evolution of dogma," said Pope Emeritus Benedict XVI about hell in an interview with Father Jacques Servais, SJ, from October 2015, published in English translation by L'Osservatore Romano in March 2016.
"If it is true that the great missionaries of the 16th century were still convinced that those who are not baptized are forever lost — and this explains their missionary commitment — in the Catholic Church after the Second Vatican Council that conviction was finally abandoned," said Benedict.
With this evolution of dogma, there comes "a deep double crisis," according to Pope Benedict. First, it becomes difficult to find "any motivation for a future missionary commitment."
Many Christians in the modern world, said Pope Benedict, are compelled to ask the question, "Why should one try to convince the people to accept the Christian faith when they can be saved even without it?"
Second, Christians find themselves questioning "the obligatory nature of the faith and its way of life" because, without the threat of hell, such an obligation seems "uncertain and problematic."
This questioning can provoke an intellectual crisis of faith. "If there are those who can save themselves in other ways, it is not clear, in the final analysis, why the Christian himself is bound by the requirements of the Christian faith and its morals," said the Pope Emeritus.
Thankfully, Pope Benedict offers a convincing response to this twofold intellectual crisis. His solution goes right to the heart of the Christian faith.
Christians will find their motivation, he said, in "the resurrected body of the crucified Lord and in His radical and incommensurable love." This personal love offers us the only satisfactory "counterweight to the immeasurable presence of evil" in the world.
The radical beauty of what a personal encounter with the risen Lord is like finds illustration in the recent film Risen. In this story, a Roman soldier stands in for each and every one of us, as a person who is seeking the truth about life.
"There are no enemies here," Jesus immediately tells this Roman man of violence in their first meeting. This loving message, the movie suggests, means the world can never be the same after the Resurrection has happened. Those who encounter the risen Lord will seek to communicate to others their personal experience of how Jesus's love overcomes all suffering.
Right after Pope Benedict's interview was published in English, an interesting debate took place in Toronto March 19. The debate was between Lawrence Krauss, Stephen Meyer, and Denis Lamoureux on "What's Behind it All? God, Science, and the Universe". It explored the meaning of modern science's discoveries in cosmology and evolutionary biology.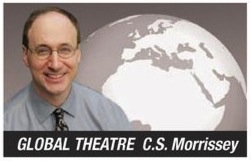 Krauss is a theoretical physicist at Arizona State University and a famous atheist whose latest book on cosmology was called A Universe from Nothing. I enjoy Krauss's no-holds-barred approach to intellectual debate. While others may find him rude or obnoxious, I really like his intensely passionate search for truth.
Krauss's scientifically brilliant mind always asks good questions that deserve good answers. He reminds me of Clavius, the tenacious Roman soldier from Risen, whose quest for truth puts him on an interesting life path.
Lamoureux and Meyer are both Christians. But Meyer is an advocate of the scientifically unproven theory of "Intelligent Design" (ID), whereas Lamoureux is an Associate Professor of Science and Religion at St. Joseph's College, University of Alberta, who has a very good understanding of the truth of evolutionary biology. Lamoureux tried to show Meyer's work has nothing credible to offer to rigorous scientists like Krauss.
While Lamoureux deserves credit for his principled alliance with Krauss to use good science to refute Meyer's bad science, I found myself disappointed in the philosophical and theological answers Lamoureux gave to Krauss, even though Lamoureux tried to represent Christianity better than Meyer's bad philosophy and bad theology.
Lamoureux argued only faith is able to build a bridge between science and metaphysics. But this is an inadequate response to Krauss's question about which God a rational scientific mind should believe in.
Meyer claimed ID proves a divine intelligence designed the universe, yet Meyer had nothing substantial to say in reply to Krauss's question, "Which God?"
Unfortunately, neither did Lamoureux, whose mere endorsement of "faith" offered no rational response to Krauss's question about why a rational mind would assent to Christianity's metaphysical claims rather than those of any other world religion.
Here I find Benedict XVI's answer to the modern mind most helpful. Benedict's answer begins with an affirmation of the historical reality of the resurrection, which is a rationally credible claim, as Carl Olson demonstrates in his new book, Did Jesus Really Rise from the Dead? (Ignatius Press, 2016).
But Jesus didn't rise from the dead just so he could send most people to hell. "Christians, so to speak, are not so for themselves, but are, with Christ, for others. This does not mean having some sort of special ticket for entering into eternal happiness, but rather the vocation to build the whole," said Benedict.
For this reason, Christians willingly join in with the "self-giving, radically forgiving, co-suffering love" of the crucified and resurrected Lord (in the words of theologian Brad Jersak, author of A More Christlike God: A More Beautiful Gospel).
"Only where there is mercy does cruelty end, only with mercy do evil and violence end," said Pope Benedict. This offers the modern mind a most rational claim.
Dr. C.S. Morrissey is a Fellow of the Adler-Aquinas Institute. He was part of the panel discussion at Trinity Western University after the local live-streaming of the Krauss-Meyer-Lamoureux debate sponsored on campus by the Canadian Scientific & Christian Affiliation and the TWU Faith and Science Club.