Pope advises Trump to build bridges, not walls
BY C.S. MORRISSEY
Violence is incompatible with the nature of God and the nature of the soul, said Pope Benedict XVI at the University of Regensburg in 2006. Pope Francis agrees, but Donald Trump thinks otherwise, writes C.S. Morrissey.
Pope Francis seemed to wade deep into the waters of U.S. presidential politics during his inflight press interview when flying back from Mexico to Rome.
"A person who thinks only about building walls, wherever they may be, and not building bridges, is not Christian. This is not the Gospel," said Francis.
The comment was understood by many as a direct rebuke of the extreme ideas of Donald Trump. However, Francis' remarks reminded me most of how Pope Benedict XVI criticized Muslim violence in his famous Regensburg Address.
"Violence is incompatible with the nature of God and the nature of the soul," as Benedict said at the University of Regensburg on Sept. 12, 2006. In this same spirit, Francis was articulating a Christian understanding of what the Gospel reveals about violence and peace.
Violent acts and riots ensued in response to Benedict's criticism of the spread of the Muslim religion by means of violent jihad. Ironically, the Muslims angry with the Pope failed to realize how their violent response was proving the very point that Benedict was making.
The indignant response by Trump and his supporters to Francis' exhortation to build bridges, not walls, reminded me of the angry response to Benedict back in 2006. Ironically, the people ticked off by Francis' latest off-the-cuff comment fail to realize how their response similarly highlights the truth of the Pope's remarks.
Even some sincere Christians shook their heads when they heard about Francis talking about Trump. For them, Pope Francis was "winging it" in an irresponsible and undignified way, making inappropriate comments about something he should not get involved with. They agreed when Trump responded by calling Francis' comments "disgraceful."
But it is worth reviewing exactly what Francis said and what Trump said. It was Phil Pullella of Reuters who said to Francis during the inflight press conference: "One of the candidates for the White House, Republican Donald Trump, in an interview recently said that you are a political man and he even said that you are a pawn, an instrument of the Mexican government for migration politics."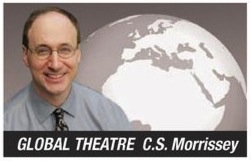 "Trump said that if he's elected, he wants to build 2,500 kilometers of wall along the border," continued Pullella. "He wants to deport 11 million illegal immigrants, separating families, etcetera. I would like to ask you, what do you think of these accusations against you and if a North American Catholic can vote for a person like this?"
Pope Francis replied at first: "Thank God he said I was a politician because Aristotle defined the human person as 'animal politicus.' At least I am a human person. As to whether I am a pawn, well, maybe, I don't know. I'll leave that up to your judgment and that of the people."
In other words, Trump's accusations of Francis being "political" are beside the point, because human persons are by their nature political animals. They care about how they stand in relation to other human beings. Further, Francis magnanimously declined to respond to the accusations about being a political "pawn" of the Mexicans.
But then Francis went on to make the comment that most people took as directly aimed at Trump: "And then, a person who thinks only about building walls, wherever they may be, and not building bridges, is not Christian. This is not in the Gospel," said Francis.
But note the qualification: the crucial words "wherever they may be" indicate Francis intends what he is saying to apply not simply to the attitudes of Trump. What he is saying is meant to apply to the attitudes of anyone, anywhere, on any questions about politics and building peace.
Francis then clarified he is not personally singling out Trump for a direct poke in the eye. He refuses to pronounce judgment on Trump. Instead, having reiterated the Gospel message about peace, Francis left it up to voters to decide how Christian Trump's behavior and ideas actually are:
"As far as what you said about whether I would advise to vote or not to vote, I am not going to get involved in that," insisted Francis. "I say only that this man is not Christian if he has said things like that. We must see if he said things in that way and in this I give the benefit of the doubt."
But when he responded to the Pope, Trump immediately removed the doubt that Francis had extended to him about whether or not Trump behaves like a Christian. Trump's first instinct was not to speak about humble faith, repentance, or conversion of heart.
Instead, Trump's first words were to portray himself as a tough guy, who thinks of Christianity as something to be "proud" about. Because Christianity is being "consistently attacked and weakened," it needs to use methods of violence, and to strike back against its enemies. Trump wants to lead the fight.
"If and when the Vatican is attacked by ISIS, which as everyone knows is ISIS's ultimate trophy, I can promise you that the Pope would have only wished and prayed that Donald Trump would have been President because this would not have happened. ISIS would have been eradicated unlike what is happening now with our all talk, no action politicians," said Trump in a statement.
Pope Benedict's Muslim controversy sheds the most light on this exchange. Just as the response to Benedict proved his point, so too did Trump's response to Francis.
Dr. C.S. Morrissey is a Fellow of the Adler-Aquinas Institute who teaches the Great Books for the Ignatius-Angelicum Liberal Studies Program. His Web site is: moreC.com.