'Side pony' tunes can invoke sense of love for God
BY C.S. MORRISSEY
Sacred Reflections of Canada is nominated for a 2016 Juno Award for Classical Album of the Year: Vocal or Choral Performance. It showcases works by 17 different Canadian composers in order to create the first ever composite Canadian Mass. (Photo credit: CanadianChamberChoir.ca)
I forgot what I was going to say. I got side-ponied by the new Steven Wilson album, just as the catchy song "Happiness 3" came on.
Imagine a cute young pony runs up alongside you. It interrupts whatever you are doing or saying. You'd find it hard to resist a pony, whether you welcomed the distraction or not.
That's the idea behind the fun slang term, "side pony," which is usually used as a verb. For example: "The constant side-ponying from her co-workers made it hard to finish a deadline on time." But it can also be a noun.
Because I find good music so captivating, I find it hard to resist giving a good song my full attention. That's why it's difficult for me to work anywhere near music playing.
If a good song sneaks up on me, I never fail to be distracted by it. I'll need to drop everything. I'll go seeking total immersion in the musical experience.
This also happens to me when a good new record is released. That brand new record becomes my "side pony": I'll look for an excuse to head out for a walk, so I can plug the new music into my ears. I want to hear it again and again, fully immersed.
For example, I recently got side-ponied by the Canadian Chamber Choir's album, Sacred Reflections of Canada — A Canadian Mass. The chamber choir's artistic director, Dr. Julia Davids, selected works by 17 Canadian choral composers in order to create a composite Mass for the album.
It's an engrossing experience. One of my favourite tracks is "Tabula Rasa" by BC composer Don Macdonald, who also teaches at Selkirk College. "Tabula Rasa" is conducted on the album by the Canadian Chamber Choir's Associate Conductor, Dr. Joel Tranquilla, who is also Director of Choral Activities at Trinity Western University in Langley, BC.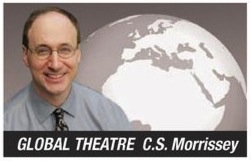 The CD of Sacred Reflections of Canada — A Canadian Mass was actually released back in September of 2015. But I got side-ponied by it last week when the 2016 Juno Award nominations were announced. The Canadian Chamber Choir's CD has been nominated in the category of "Classical Album of the Year: Vocal or Choral Performance."
There are nineteen tracks on the album. The Ordinary of the Mass (the Kyrie, Gloria, Credo, Sanctus, and Agnus Dei) is the guiding thread that takes the listener through this uniquely Canadian Mass. Other sacred music, placed in between and around those tracks, draws the listener into further reflection on liturgical themes.
Maybe the musical virtuosity and classical complexity of the Canadian Chamber Choir doesn't side pony you. But a lot of good new music coming out this month could still nuzzle up to you.
For example, there's Inheritance, a new collection of favourite hymns reworked by the award-winning singer-songwriter Audrey Assad according to her unique musical sensibilities. Assad was raised Protestant but converted to Catholicism. Her reverent musical style resonates with a lot of people.
"Listening to the hymns on Inheritance brings a pure and honest atmosphere of prayer," comments Kathleen LeBlanc, a local musician who will be playing at the Archdiocese of Vancouver's ONE Conference again this year with her husband Jesse.
"In some ways, I am taken back to moments of prayer from my childhood, as I've known these songs for years," she said about the hymns on Inheritance. "Yet Audrey somehow makes them new while still preserving their timeless beauty."
When asked to name a favourite track, she said, "I don't think I can pick a favourite track! Each of them are so beautiful and make my heart feel so full of love for the Lord."
The power of music lies in its incomparable ability to express emotions that would otherwise be incommunicable. This can happen with an unaccompanied choir of voices, as with the Canadian Chamber Choir, or when voice and instruments blend together, as on Inheritance.
It can also happen with purely instrumental tracks. When such music expresses emotional states and evokes certain moods, you pleasantly rediscover the hidden depths of feeling within your own soul.
Released in January, the new album by Steven Wilson, 4½, conjures a variety of emotional soundscapes. Three of the tracks feature Wilson singing: "My Book of Regrets," "Happiness 3," and he's joined by Ninet Tayeb on "Don't Hate Me," as she sings a stunning duet with him.
The other three tracks on the album are moody, experimental instrumentals: "Year of the Plague," "Sunday Rain Sets In," and my favourite, "Vermillioncore," which uses a simple riff, but takes it through an exhilarating series of electronic permutations.
I expect to be side-ponied by another new album this week. Lake Street Dive, a talented quartet of musicians, is releasing their latest.
Jazz vocalist Rachael Price fronts the group. Price won the 2006 Independent Music Award for Best Gospel Song for "My God, My Adored One," recorded with the Boston Praise Collective.
But now she's multiplying the magic with Lake Street Dive. Be careful, because their new album comes with an apt title: Side Pony.
Dr. C.S. Morrissey is a Fellow of the Adler-Aquinas Institute who teaches the Great Books for the Ignatius-Angelicum Liberal Studies Program. His Web site is: moreC.com.