No need for science to "test your faith": science was born of Christianity
BY C.S. MORRISSEY
C.S. Morrissey writes about the short and accessible book, Science Was Born of Christianity: The Teaching of Fr. Stanley L. Jaki, written by Stacy Trasancos, a research scientist and historical theologian with a Ph.D. in chemistry. (Photo: StacyTrasancos.com)
When Matt Damon is stranded on Mars in the excellent new movie The Martian, he has to figure out how to put science to work in a harsh and inhospitable environment.
Not only is this a terrific film, another cinematic triumph from director Ridley Scott (the creator of Gladiator, among other classics), its story is also a great metaphor.
It seems science will always have to do its difficult but noble work in a skeptical and unfriendly environment, whether on Mars or on planet Earth.
On this continual cultural challenge faced by science, I recommend the short and accessible book, Science Was Born of Christianity: The Teaching of Fr. Stanley L. Jaki. It is written by the talented and gifted Stacy Trasancos, who is a research scientist and also a rare sort of historical theologian: one with a Ph.D. in chemistry.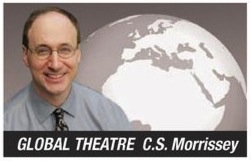 Stacy's book presents a scientific and philosophical view of history that embraces the pioneering work of Fr. Stanley L. Jaki, a member of the Benedictine order who studied, in innovative and path-breaking works like The Savior of Science, the unique synergy between faith and reason.
A priest with doctorates in both physics and theology, Fr. Jaki was awarded the Templeton Prize in 1987 and appointed by Pope St. John Paul II in 1990 to the Pontifical Academy of Sciences.
Jaki investigated the history of science and found that science was "stillborn" in other cultures. Science could only achieve its historical "birth" in the environment of Christian culture.
Moreover, science can only continue to flourish in the sort of hospitable cultural soil that an intellectual culture influenced by Christianity can provide. This is an important thesis that Christians need to know about, and not just for reasons of historical or theological interest.
There is a tendency among some Christians today to be ignorant about science or to be dismissive about its achievements. But as the work of Fr. Jaki shows, this is to be ignorant and dismissive about one of the greatest glories "birthed" by their own faith tradition.
However, science and faith are not in conflict. The Faraday Institute has a wonderful series of three short films that looks at this idea and answers questions that surround this false conflict.
The films are grouped together under an arresting title for the whole series: "Test of Faith." The series subtitle asks the key overall question: "Does science threaten belief in God?"
Part 1 asks: "Are science and Christianity in conflict? Has the Big Bang pushed God out of the universe?" Then, Part 2 addresses perhaps the hottest topics today: "What does creation mean? Is evolution compatible with religious faith?" And Part 3 takes on the most aggressive of secular claims: "Are humans no more than biological machines? What does it mean to be made in the image of God?"
The "Test of Faith" series contains some truly enlightening interviews with a host of leading scientists who discuss their faith on camera. It's an impressive display of some of the finest expert minds, well-known for their work in specialist science, engaging with the questions of faith that concern absolutely everybody.
Science cannot replace faith. But neither is the opposite true: faith cannot replace science. Christian tradition teaches us instead that faith and reason must work together.
Fr. Jaki has studied how the intimate cooperation of faith and reason has borne incomparably good fruit historically. But now there is an urgent need for this cooperation to renewed, especially given today's most controversial scientific developments.
Like Matt Damon's character stuck on Mars, this renewal is going to take a lot of hard work for science to survive. After all, a welter of inhospitable prejudices currently surrounds science.
Dr. C.S. Morrissey is a Fellow of the Adler-Aquinas Institute who teaches the Great Books for the Ignatius-Angelicum Liberal Studies Program. Read more at: moreC.com.