Father Spitzer outdoes Hawking's theory of imprinting
BY C.S. MORRISSEY
Stephen Hawking's new theory says imprinted information about a dead star can remain in the realm of secondary causality even when we've been overlooking it. Even better, for those who would overlook God's true nature, Father Robert J. Spitzer shows how God indelibly imprints himself on the universe with primary causality, writes C.S. Morrissey. (Image credit: NASA/JPL Caltech)
Stephen Hawking has made headlines again, claiming he has arrived at a solution to the black hole information paradox.
In the 1970s, he predicted black holes leak "Hawking radiation," which can cause them eventually to evaporate. Any information about the star that gave birth to the black hole, or about anything else fallen into the black hole, would then be destroyed by the evaporation.
But that destruction of information would violate the laws of quantum mechanics. So, to solve this longstanding paradox, Hawking proposed on August 25 that the information could be stored, not inside the black hole, but on its edge instead, thereby surviving the evaporation.
Hawking theorized the information resides in "supertranslations" imprinted at the black hole's spherical event horizon. The imprinting would happen whenever matter from the black hole's dead star, or from anything else, crossed the "point of no return" (the event horizon's spherical boundary) and fell inside the black hole.
Physicists eagerly await further details on Hawking's proposed solution, since the problem touches upon many of the largest mysteries in physics today. But for the moment, Hawking's solution strikes me as quite elegant, and also highly suggestive.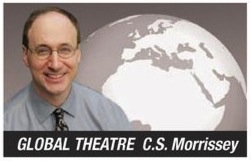 The idea of imprinted information being preserved and not destroyed made me think of Fr. Robert J. Spitzer's new book: Evidence for God from Physics and Philosophy: Extending the Legacy of Monsignor Georges Lemaitre and St. Thomas Aquinas.
Its 130 pages are an expanded version of Spitzer's 2014 University of Dallas Aquinas Lecture, in which he discusses the most interesting causal evidence available from physics and metaphysics showing the universe is the effect of a Creator.
For those interested in the fascinating achievements of modern physics, Spitzer reviews the evidence about the beginning of the universe offered by our knowledge of the Big Bang, of space-time geometry, and of entropy.
The physical evidence of a distinct beginning in time seems to be a kind of "imprint" left on the universe by the Creator who created it. But things get especially interesting when Spitzer discusses the fine-tuning of the universe "for life" at the beginning of time.
The apparent design behind such fine-tuning seems to be the most remarkable "imprint" because it implies the action of a supernatural intelligence. But Richard Dawkins, the atheist writer and evolutionary biologist, has made a famous objection to the existence of a Creator with supernatural intelligence.
Dawkins's argument in a nutshell is: "A designer must always be more complex than what it designs. Whatever is more complex is more improbable. Therefore, a designer must be more improbable than what it designs."
Dawkins exhibits ignorance of the salient attribute of divine simplicity that nullifies his argument, says Spitzer. Because God is absolutely simple, with no parts and with no restrictions on his being, he possesses no complexity in the material sense conceived by Dawkins. As Spitzer points out, this means that, because of the divine simplicity, God is "the most probable reality of all."
Dawkins thus gets God completely backwards. He understands God as complex because he has neglected the actual arguments of Aquinas. Spitzer takes the reader through an eight-step logical-metaphysical Thomistic proof of God at the end of his book (footnoted with precise references to Aquinas) in order to refute Dawkins:
(1) "There must exist at least one uncaused cause," (2) characterized primarily as "the pure act of existing through itself," which has the attributes of (3) being totally "unrestricted" in its existence, (4) singularly "unique," (5) the ultimate cause ("Creator") of everything else, (6) possessing "transtemporal" existence (i.e., creating from eternity), (7) who is "an unrestricted act of mentation (thinking)," and (8) who must therefore be absolutely simple (i.e., without any complexity of parts).
No doubt Dawkins's failure to learn about this classic metaphysical conception of God (as absolutely simple) mirrors the willful ignorance of many Christians he has encountered. He sees in them a breathtaking stupidity and shameless incompetence in their denials of scientific knowledge about secondary causality. So it's understandable why Dawkins would mirror their ignorance about science, retaliating with his own ignorance of metaphysical knowledge about primary causality.
Thankfully, Spitzer bridges the gap. With his vivid explanation of the classic conception of God's primary causality, Spitzer helps us appreciate how God's own existence ("the pure act of existing through itself") actually imprints itself on all of creation. As primary cause, He is the source of being for everything that exists.
The gods of Greek mythology act as petty magicians and puny demiurges, inserting themselves on the level of secondary causality into the operations of the universe. Such myths evaporate when science grows in its understanding of how secondary causality actually operates in nature.
Similarly, Dawkins thinks any evidence for God is like a black hole that evaporates, disappearing as soon as science learns better how secondary causality works. After all, many Christians that Dawkins meets are apparently unable to think of God as anything other than a super-duper version of Zeus: an arbitrary despot hostile to science and partial to miracles.
Hawking's new theory says imprinted information about a dead star can remain even when we've been overlooking it in the realm of secondary causality. Even better, for those who would overlook God's true nature, Spitzer shows the intellectually careless (Dawkins and the Zeus worshippers alike) how God indelibly imprints himself on the universe with primary causality.
Not only is God not dead. He's been everywhere all along.
Dr. C.S. Morrissey is a Fellow of the Adler-Aquinas Institute who imprints more information at: moreC.com.